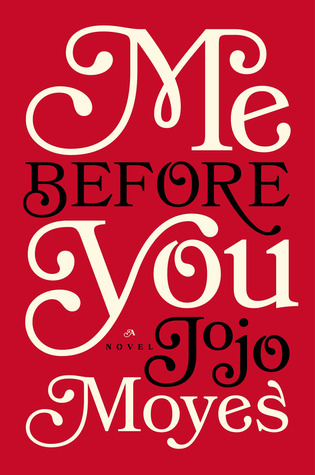 Me Before You 
written by JoJo Moyes
published by Viking, 2012
find it here: (affiliate links) Barnes & Noble, Amazon, iBooks, Book Depository, Goodreads

Did I enjoy this book: I am madly in love with this book. I can't emphasize this enough to anyone I talk to about Me Before You. You will laugh, you will cry, but most of all, you will feel. I know for sure that this book will be put on my favorites list and that I will probably read it again and again. The writing is flawless. The first few chapters made me want to stay up all hours of the night reading it. I thought every character was well written, and I can guarantee you will fall in love with Will and Louisa. The only other thing I will say is that you should make sure to have some tissues handy, especially if you are like me, an emotional crybaby.
GOLDEN LINES

"You only get one life. It's actually your duty to live it as fully as possible."
Would I recommend it: Read this book! Read it now!
About the book – from Goodreads: Lou Clark knows lots of things. She knows how many footsteps there are between the bus stop and home. She knows she likes working in The Buttered Bun tea shop and she knows she might not love her boyfriend Patrick.
What Lou doesn't know is she's about to lose her job or that knowing what's coming is what keeps her sane.
Will Traynor knows his motorcycle accident took away his desire to live. He knows everything feels very small and rather joyless now and he knows exactly how he's going to put a stop to that.
What Will doesn't know is that Lou is about to burst into his world in a riot of colour. And neither of them knows they're going to change the other for all time.