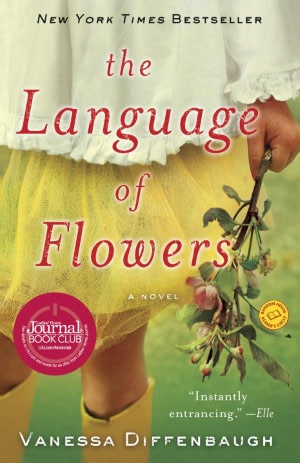 The Language of Flowers
written by Vanessa Diffenbaugh        
published by Random House Publishing Group

find it here: Barnes & Noble, Amazon, Goodreads

Why did I pick this book: This was my book group's pick for August.

Did I enjoy this book: I really enjoyed this book. I thought it was beautifully written. I read it every free chance I had. I wanted – no, I needed – to see how it all worked out in the end. And I was not disappointed with the ending.

I had mixed feelings with Victoria. I liked her and I wanted her to overcome her past and succeed in her future. But, at the same time, I found her to be selfish and sometimes the cause of her own misery. It was wonderful to see Victoria take someone – Marlena – under her wing and help her move forward much like Renata did for her. There were other events that happened to Victoria that I just couldn't believe her reactions and subsequent actions. (I don't want to spoil anything for anyone…but there were parts that made me angry with Victoria.) But in her heart, Victoria was a good person and tried to do her best.

Elizabeth was a character that I really liked. She made some mistakes but she had the best intentions. I really loved Elizabeth in the end. Renata was a great friend, mentor, and there when Victoria most needed someone in her life. Renata was there even though she didn't know Victoria's story…she knew something and that intuition made her an even greater friend to Victoria. I felt so bad for Grant. He was so patient and loving. I loved how he and Victoria "met." That was very interesting writing – a great exchange between these two characters.

I've always known that some flowers meant certain things or conveyed certain messages. I did not know, prior to reading this book, the extent of these definitions and meanings or the differences that are out there. It was a neat experience to read how people can convey a message with a simple flower and have the message understood and appreciated in some form by the receiver. 

Would I recommend it: I would recommend this book. It was a great book club book.

Will I read it again: I will not.

About the book – from Goodreads: The Victorian language of flowers was used to convey romantic expressions: honeysuckle for devotion, asters for patience, and red roses for love. But for Victoria Jones, it's been more useful in communicating grief, mistrust, and solitude. After a childhood spent in the foster-care system, she is unable to get close to anybody, and her only connection to the world is through flowers and their meanings.

Now eighteen and emancipated from the system, Victoria has nowhere to go and sleeps in a public park, where she plants a small garden of her own. Soon a local florist discovers her talents, and Victoria realizes she has a gift for helping others through the flowers she chooses for them. But a mysterious vendor at the flower market has her questioning what's been missing in her life, and when she's forced to confront a painful secret from her past, she must decide whether it's worth risking everything for a second chance at happiness.

Happy reading wherever you are and whenever you get a free chance!!!