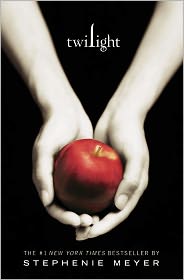 Twilight (Twilight Saga Series #1)
written by Stephenie Meyer             
published by Little, Brown Books for Young Readers


Why did I pick this book: This a series that I read at least once a year. I am reading it now because of the new movie, Breaking Dawn Part 1, that is being released in a few short weeks. 



Did I enjoy this book: Yes. This is a book that I read every free chance I get. This reading…which was my fourth or fifth…occurred while I was unpacking after a move, at the grocery store, in my car in the drive-thru, just about anywhere. When I read this series, I can't put it down until it is finished. 


One of the reasons that I like this book, and series for that matter, is because it is an easy read that lets me enter into a fantasy world that doesn't read as a fantasy. It reads as if it were the "real" world and we just don't know what all the aspects of our "real" world there are out there. 


Some people do not enjoy this book because of the crazy teenage angst and obsessive vampire love…but come on….who can't enjoy that. Every girl wants a boyfriend who is absolutely unconditionally in love with her and would do anything to protect her. He is also old-fashioned in his manners and respect for her. Also, there is no sex in this book which is kind of nice for a change…and, no, I'm not a prude. I just think that not every book, especially books that are geared towards teens and young adults, needs raunchy sex scenes.


Would I recommend it: Absolutely. I would recommend it to anyone who wants to let go and read an easy read that is a good story that pulls you in and allows you to live in that world of "what if it were true". If you are a literary "snob", then I would not recommend this book because it is by no means the next great literary piece of art but I find it entertaining and fun to read.


Will I read it again: Yes, I will. Definitely before Breaking Dawn Part 2 is released in the theaters.


About the book – MAY CONTAIN SPOILERS: Isabella Swan moves to a small town near Seattle, Washington called Forks. She moved there to live with her dad, Charlie, who is the town's police chief. On her first day of school, she meets Edward Cullen who has a seemingly adverse reaction to her. 


After a week or so, Edward warms up to Bella and the infatuation, on both individual's parts as well as a few other boys in Bella's class, begins. Bella soon learns that Edward and his family are vampires, "vegetarian" vampires to be more specific. "Vegetarian" in that they do not drink human blood, only the blood of animals. 


Of course, as with all good romantic paranormal teen books, Bella's life is threatened by another nomadic vampire. Edward, and his family, has to come to her rescue. 




If you have read it, let me know what you think!!!