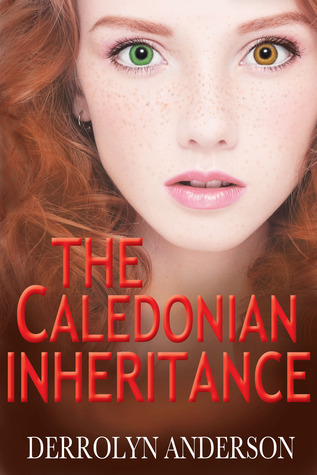 The Caledonian Inheritance (The Athena Effect #3)
written by Derrolyn Anderson
published by Derrolyn Anderson
find it here: (affiliate links) Barnes & Noble, Amazon, iBooks, Smashwords, Goodreads
Disclosure: I received a complimentary copy of this book in exchange  for an honest review.

Did I enjoy this book: I was actually a bit worried I'd have to read a third book about Cal and Cal being in love. I enjoy them, but it's true: the part that happens AFTER the Happily Ever After isn't usually very interesting. I was, then, pleasantly surprised when Anderson shifted the focus of the third book in her Athena Effect series to a different character. Layla isn't my favorite of the bunch, and I'm not exactly sure why we needed the not-really-a-love-triangle bit in the first half of the book, but I still enjoyed the read. Reading about Ramon helped too. Yum.
Well, I'm on to the last book in the series. Wish me luck!
GOLDEN LINE(S)

"Okay," she said, imagining herself raising a gun and shooting Senator Blackwell right between the eyes. It was a comforting thought.
Would I recommend it: Yep! If you enjoyed the first two books in the series, keep reading!


About the book – from Goodreads: After a winter spent in a tropical paradise, Cali and Layla are ready to put all of the drama behind them and find some meaning in life. Along with Calvin and Michael, they return to their remote property, only to discover more troubles hidden away in the bucolic wilderness.
The two Cals settle in happily, but Layla and Michael struggle with their sense of identity, each one seeking out a different coping mechanism. Just when things are starting to look up, Layla's need to recreate the past leads her back to a dangerous place, opening the door for for evil to return.
Will Layla's foolish mistake jeopardize everyone's newfound happiness?