Every Free Chance Book Reviews is happy to participate in JKS Communications' Holiday Giveaway Hop!! 
For my stop on this hop, I am giving away Books for a Good Cause. Fill out the Rafflecopter form below for your chance to win!
These are the books that are up for grabs! 
Let's Here It for Almiga 
written by Wendy Kupfer 
cause: hearing-impaired/cochlear implants – 5% of sales supports children with hearing loss

Synopsis: Meet Almigal, a spunky little girl with a BIG personality who's determined to hear "every single sound in the whole entire universe!"

That includes… her friend Isabella's baby brother's funny giggle, the robins singing outside her bedroom window, the soft Swan Song Madam plays during ballet class, and especially her friend Chloe's teeny-tiny voice.

But most of all, Almigal wants to hear her Mommy and Daddy whisper, "We love you, Almigal!" when they tuck her into bed at night.

Almigal's spirit and her cotton-candy pink cochlear implants will have everyone shouting, "Let's hear it for Almigal!"



The Memory Thief 
written by Emily Colin  
cause: dyslexia 

Synopsis: Reminiscent of On Mystic Lake by Kristin Hannah, readers will adore Emily Colin's unique and beautifully written debut novel, where one man's promise to return drives an exquisitely passionate, unforgettable tale of love lost and found.

When Madeleine Kimble's husband Aiden dies in a mountain climbing accident, Maddie can only think of his earnest promise to return to her and their young son. Aiden's best friend J.C. feels great remorse over his inability to save him, but J.C.'s grief is also seasoned with the guilt of loving Maddie through the years. Meanwhile, across the country another young man wakes up in a hospital and finds that his memories have been wiped clean, and replaced with haunting dreams of a beautiful woman and a five year old boy whom he feels driven to find. What Nicholas Sullivan discovers upon his journey is utterly unexpected—and it will change all of their lives, especially Maddie's.



The Dog Story 
written by Matt Cavallo 
cause: MS – A portion of the proceeds from this book will be donated to support MS research and charities.

Synopsis: At the age of twenty-eight years old with a promising career in real estate development, Matt Cavallo got out of bed on May 18, 2005 and stumbled. Overnight, he went from a fully-functioning, healthy man to someone who was numb from the waist down and unable to walk.
After consulting his doctor, he was sent to a neurologist who immediately admitted him to the hospital. What would happen to Matt over the next four weeks would redefine all that was important in life. At the end of this four-week period, he would learn that he has the chronic neurodegenerative condition – Multiple Sclerosis.
This book chronicles Matt's journey of being diagnosed with Multiple Sclerosis and his struggle to not only regain his physical health, but also to regain the inner strength needed to fight this chronic illness. It is a story of hope, love, healing and finding man's best friend.Matt is sharing his story in hopes of raising awareness of this devastating illness.
Stress Pandemic 
written by Paul Huljich 
cause: mental health awareness

Synopsis: Do you feel anxious or on-edge a lot of the time? Do you suffer from stress but feel powerless to stop it? Do you have trouble sleeping, lack energy or patience, feel frequent sadness or tension, or experience even  larger stress-related health problems?

Many people would answer yes to these questions. The modern world is a breeding ground for stress, it comes in many forms and has a variety of causes, but any kind of stress can greatly inhibit life and take a serious toll on both the body and mind.

Written for the growing number of people wishing to free themselves of mild, moderate or severe stress, Stress Pandemic draws upon organic food pioneer Paul Huljich's experience with stress-related illness, outlining a practical and effective approach to beating stress and achieving complete wellness. Huljich's strategies address the underlying habits and tendencies that cause stress, and offer a comprehensive lifestyle solution designed to deliver complete well-being.

By learning and following Huljich's uniquely powerful and integrated approach to wellness, readers can live stress-free, in a natural and holistic way.



The Gray Zone 
written by Daphna Edwards Ziman 
cause: child trafficking/adoption awareness

Synopsis: Shaped by a brutal and orphaned childhood, abused and sexually exploited, Kelly Jensen has become a cunning and seductive criminal, a master of disguise and identity theft, in order to protect the lives of herself and her children and to bring down a ruthless underworld subjecting foster children to white slavery. She must defeat an indifferent justice system and a corrupt political empire to evade the deadly traps set by the most murderous master of the banking world. Her life depends on the skills of deceit he has taught her.

Ruggedly handsome defense attorney Jake Brooks finds the enigmatic Kelly Jensen irresistible despite suspecting her of murdering his best friend from law school. His obsession leads him to risk his own illustrious career in Los Angeles to see that justice is served. Kelly finds him addictive. Together, the two uncover a sordid link among immoral foster care parents, high rollers in Vegas, politicians, and the legal system itself. Kelly ultimately takes fate into her own hands behind closed doors in the gray zone.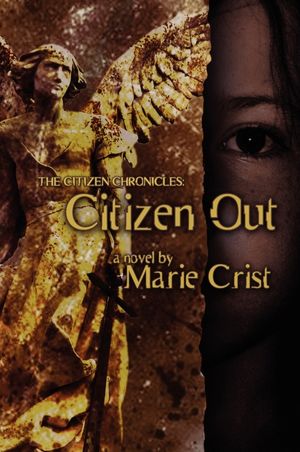 Citizen Out 
written by Marie Crist 
cause: child kidnapping awareness

Synopsis: A man patiently watches a group of young girls walk home from school, waiting for the perfect moment to take the one child he has designated as his next victim.

However, what this predator does not know is that he, too, is being stalked. There is someone in the shadows—a trained Citizen—who is ready to make sure that the child under his assigned protection is never harmed.
One pedophile, one abuser, one killer at a time . . . this Citizen and others like him will take a stand against those who prey on the weak and the innocent.
a Rafflecopter giveaway
              Happy reading wherever you are and whenever you get a free chance!!!