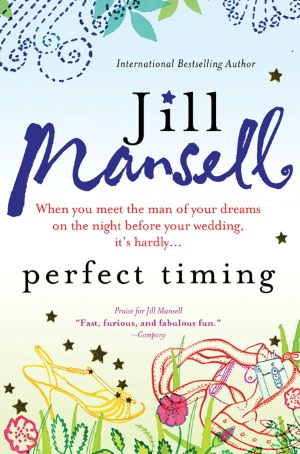 Perfect Timing
written by Jill Mansell 
published by Sourcebooks, Incorporated


Why did I pick this book: I think it was a free Nook book at one point, so I downloaded it. Now I'm reading it. 



Did I enjoy this book: I did. It was classic chick lit…an easy read, light, funny, love problems. Some parts were laugh out loud funny.


I was impressed with how this author could weave together quite a few different story lines that all depend on each other in some way. I wasn't confused either with the different story lines. There were only a few times when I couldn't remember a character – namely Claudia's mother. Other than that, I did not have a problem keeping everything straight.


I wanted Poppy to end up with who she did. I wanted her to find her biological father but I was upset that he didn't get to connect with her before he died. I was glad that he figured it out but bummed that he didn't let Poppy know that he knew before the bottles. 


Would I recommend it: If you like chick lit…especially British chick lit…then yes, I would definitely recommend it. 


Will I read it again: I'm not sure. Not right away…but maybe some time in the future. But I will read more of her books in the future.


About the book – MAY CONTAIN SPOILERS: Poppy Dunbar's life changes the instance she meets Tom, a dark handsome stranger that "saves" her from a fall. After that meeting, Poppy cancels her wedding, finds out that her father is not actually her father, and leaves her life and flees to London to find her father and the handsome stranger with whom she had an amazing connection right from the start. 


While working as a waitress for a catering company, Poppy meets Claudia and Caspar – her future flatmates. Well, not really a flat, more like a spacious house with art studio where Caspar paints and entertains his many women friends and portrait subjects. Claudia doesn't like Poppy at first and thinks Caspar will not like her as well. She was wrong. The three of them live together for about a year.


Claudia wants a man but she tries too hard. Finally, after initially insulting him, she starts to fall for Poppy's boss, Jake. Jake – painfully shy with women and loves antiques – really likes Claudia and can't seem to get the courage to go after her. When he finally does, he isn't sure if she likes him for him or for his new money. He bets it all in front of her to see how she really feels about him.


Tom ends up being a rather possessive man that wants to "train" Poppy on how to be a housewife. Not exactly her knight in shining armor that she thought he was. 


Does Poppy end up with a man of her dreams? Does Claudia accept Jake for who he is? Does Caspar ever grow up and settle down? Does Jake get over his shyness and awkwardness? Does Rita have a happy ending?


If you have read it, let me know what you think!!!