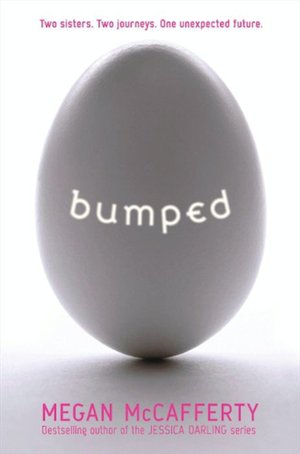 Bumped
written by Megan McCafferty
published by HarperCollins Publishers


Why did I pick this book: It was reviewed on another blog that I follow, chicklitisnotdead.com. It looked interesting, so I thought I would give it a try.



Did I enjoy this book: Not at first, but then I got into towards the end. I had to see how it ended, which means that I read it every free chance I could. I stayed up late, I put off doing household stuff, I just wanted to see how it ended. Of course, it was a cliffhanger of sorts and now I will be anxiously awaiting the sequel. (Thankfully I don't have to wait too long…only until the end of April. UGH! April 24th needs to get here fast!!!)


The one thing I wasn't expecting was the religious aspect. (The first few reviews were brief and did not mention this. I didn't mind it in the least…I just wasn't expecting it.) Harmony reminded me of an Amish girl on her rumspringa. She explores the "Englisch" world – Otherside – and finds her long-lost twin sister. The difference is that she isn't Amish and she witnesses to her sister and anyone else she comes across. That is until she meets the infamous Jondoe. 


Melody is living in a world where they idolize pregnant teens a la MTV's Teen Mom and 16 and Pregnant. She and a lot of her high school classmates are being paid to "bump" and get pregnant. She was one of the first to sign a lucrative deal and is awaiting her match. She gets matched with the infamous Jondoe.


The one thing I did not like about this book was that some of the technology that they use in 2036 was not explained in the beginning of the book. We were introduced to blink wink wink double blink wink left right … blah blah blah. We do not get the explanation of this until much later in the book and this really kind of bugged me. What the heck is MiNet? What is Face Space? Why couldn't the author explain this to me in the beginning??? And some of the teen vocabulary was ridiculous!!! "Fertilicious," "pregging," "neggy," "terminated," etc??? Who talks like that? But once you get past – or used to – that "teen" language, the story has some promise. 


It was a quick read and I want to see how it ends.


Would I recommend it: I would. It was surprisingly good and, as I said, I can't wait for the sequel.


Will I read it again: I'm not sure. Not anytime soon, that is for sure. 


About the book – MAY CONTAIN SPOILERS: Melody is a sixteen year old in high school and she has signed a fairly lucrative deal to bump and deliver a baby for the Jaydens.


Harmony is a sixteen year old girl from Goodside who desperately wants to connect with her twin sister – Melody – from whom she was separated at birth. She wants to explain to Melody why bumping for money is a sin and that she should join Harmony in Goodside.


When Harmony shows up on Melody's doorstep, a whole new world is opened — to both of them. Melody fights her own feelings about bumping, about her twin sister, and about her best friend, Zen. Harmony fights her feelings about her upbringing, her husband Ram, and her feelings for Jondoe. 


This is world where pregging is the key to popularity and money but is it the right thing for everyone?


If you have read it, let me know what you think!!!