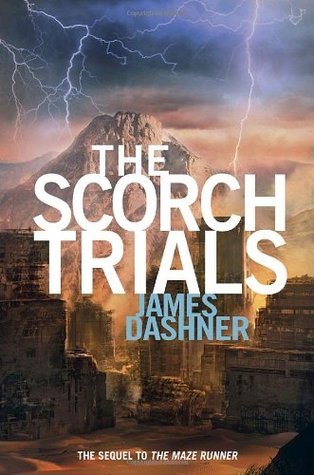 The Scorch Trials (The Maze Runner #2)
written by James Dashner
published by Delacorte Press
find it here: (affiliate links) Barnes & Noble, Amazon, iBooks, Book Depository, Goodreads
Did I enjoy this book: Why couldn't The Scorch Trials be the first book in The Maze Runner series? Seriously, why? This book was SO much better. It was like the author realized that The Maze Runner was lacking and rewarded everyone with a better novel. Every night I stayed up a little longer knowing I would have to inject coffee into my veins the next morning, just so I could read a few more chapters.
There was a lot of action and introductions to new characters, and I felt myself becoming more and more invested in what was happening to Thomas. I felt nothing for him before, but all of a sudden, I didn't want him to die or be maimed by Cranks. What are Cranks, you ask? They are Dashner's version of zombie-like crazy people. The bonus is that some of them can rhyme like a Tim Burton-esque Dr. Seuss. I didn't believe it could happen either; only writers could come up with these unique ideas.
I definitely can't wait to read the last book in the trilogy!
Golden Line: "Rose took my nose, I suppose."
Would I recommend it: Yes, I definitely would.
About the book – from Goodreads: Solving the Maze was supposed to be the end.
Thomas was sure that escape from the Maze would mean freedom for him and the Gladers. But WICKED isn't done yet. Phase Two has just begun. The Scorch.
There are no rules. There is no help. You either make it or you die.
The Gladers have two weeks to cross through the Scorch—the most burned-out section of the world. And WICKED has made sure to adjust the variables and stack the odds against them.
Friendships will be tested. Loyalties will be broken. All bets are off.
There are others now. Their survival depends on the Gladers' destruction—and they're determined to survive