Wild
directed by Jean-Marc Vallée
premiered December 19, 2014
find the movie here: (affiliate links) IMDB, Barnes & Noble (Blu-Ray link), Amazon (prime movie link), Amazon (Blu-Ray/DVD link)
Did I enjoy this movie adaption: I have to say I really enjoyed the movie. I had heard nothing but wonderful things about both the movie itself and Reese Witherspoon's portrayal of Cheryl, and people had every right to say those wonderful things. Witherspoon does a wonderful job showing the emotions Cheryl wrote. I think it must be hard to portray a real person, but this is a believable performance. I'd also like to give an honorary mention to Laura Dern for her amazing performance as Cheryl's mother. Seriously, she is exactly as I pictured and I CRIED. That woman truly knows what she's doing.
The only real thing I missed in the film that was in the book was some of the relationships Cheryl formed while on the trail with the male hikers. She became friends with these men in the book and they became a part of her journey. I know the director probably wanted this to be focused on Cheryl, but I just thought that some of the scenes with the male hikers fell flat.
I did appreciate seeing the Bob Marley shirt, however. It was such a meaningful piece of clothing in the book, but again I was disappointed that we didn't get to meet the man who gave it to her. However, having read the book I'm glad that we at least get to see Cheryl wearing it.
Overall, I loved this film. My husband, whom I didn't even have to beg to watch it, even liked it. He's done some backpacking in his time and related a lot to the backpacking and hiking part of the film. I don't think this is a good date movie, though. I think you'd have to be genuinely interested in the content to enjoy this film, and although I loved it, I think the book is better.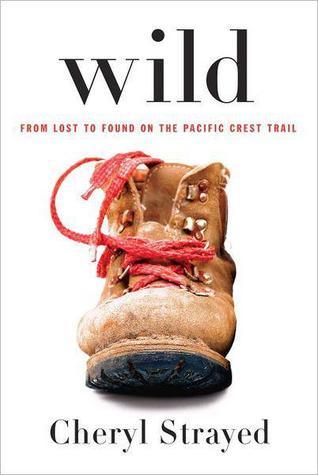 Wild 
written by Cheryl Strayed
published by Knopf, 2012
find it here: (affiliate links) Barnes & Noble, Amazon, Book Depository, Goodreads
You can read Gina's 4-star review here.
About the book – from Goodreads: #1 NATIONAL BESTSELLER, SOON TO BE A MAJOR MOTION PICTURE.
At twenty-two, Cheryl Strayed thought she had lost everything. In the wake of her mother's death, her family scattered and her own marriage was soon destroyed. Four years later, with nothing more to lose, she made the most impulsive decision of her life. With no experience or training, driven only by blind will, she would hike more than a thousand miles of the Pacific Crest Trail from the Mojave Desert through California and Oregon to Washington State — and she would do it alone.
Told with suspense and style, sparkling with warmth and humor, Wild powerfully captures the terrors and pleasures of one young woman forging ahead against all odds on a journey that maddened, strengthened, and ultimately healed her.