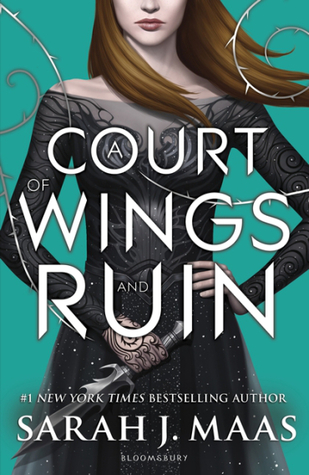 A Court of Wings and Ruin (A Court of Thorn and Roses #3)
written by Sarah J. Maas
published by Bloomsbury Childrens Books, 2017
find it here: (affiliate links) Barnes & Noble, Amazon, iBooks, Target, Walmart, Book Depository, Goodreads

Did I enjoy this book? What a climax! What an ending! (or is it???) Our heroine is back and better than ever. Our hero is still the greatest hero of all time. The friends, the enemies, the battles–is there anything this book doesn't have? Every book in this series has gotten progressively better, and I loved the first one! My husband didn't read these books, but he knows all about them because I couldn't stop talking about them while reading them. I should have tracked my blood pressure throughout this book. There were a number of times I had to set the book down and take some deep breaths just to get through. I'm a little embarrassed to admit how late I stayed up reading this one, especially when I got to the end of the book.
Would I recommend it? I can't recommend this enough. Loved, loved, LOVED this book and the whole series! Apparently there is another book coming out in 2018 and I'm DYING to get my hands on it! Go read these books and then let me know what you think. I need to discuss/obsess over them with someone other than my husband!

About the book – from Goodreads: Looming war threatens all Feyre holds dear in the third volume of the #1 New York Times bestselling A Court of Thorns and Roses series.
Feyre has returned to the Spring Court, determined to gather information on Tamlin's manoeuvrings and the invading king threatening to bring Prythian to its knees. But to do so she must play a deadly game of deceit – and one slip may spell doom not only for Feyre, but for her world as well.
As war bears down upon them all, Feyre must decide who to trust amongst the dazzling and lethal High Lords – and hunt for allies in unexpected places.
In this thrilling third book in the #1 New York Times bestselling series from Sarah J. Maas, the earth will be painted red as mighty armies grapple for power over the one thing that could destroy them all.