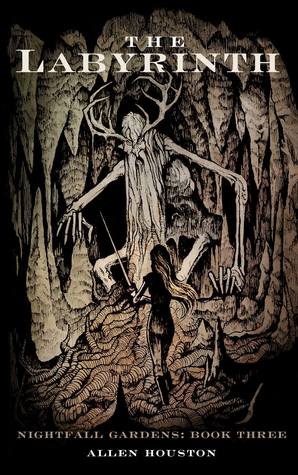 The Labyrinth
written by Allen Houston
published by Flycatcher Books, 2014
find it here: (affiliate links) Amazon, Goodreads
Disclosure: I received a complimentary copy of this book in exchange for an honest review.

Did I enjoy this book: I adored the first book in this series. The second book needed some serious revision work, and this one . . . this one was downright badly written. There were words missing, typos, tense problems, and some seriously anachronistic language choices. The plot got a bit redundant, and I'm still not sure what the difference is between destroying Pandora's Box and, um, destroying Pandora's Box. I'm disappointed we didn't learn more about the purple necklace, too. I felt like the whole "secret died with her grandmother" was an excuse for "I couldn't think of anything." Had I not already read the first two books in the series this would be on my DNF list.
Would I recommend it: Listen, the ending is predictable enough, so unless you want to know which secondary characters live and which ones die, save yourself the heartache of a poorly edited book.

About the book – from Goodreads: Time is running out for Lily and Silas Blackwood in their hunt to destroy Pandora's Box before the beings of Nightfall Gardens unleash its evil upon an unsuspecting world.
Loyalties will be tested and friends will make the ultimate sacrifice as the two face off against an army of horrors that live in the Gardens.
At the center of it all stands the Labyrinth, a maze haunted by dying gods and startling secrets that Lily must navigate to find Pandora's Box. But will she be too late?
"The Labyrinth" is the nail-biting conclusion to the "Nightfall Gardens" trilogy.