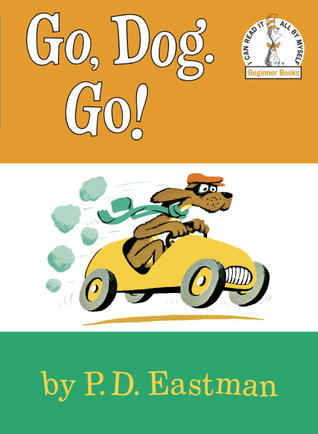 Go, Dog. Go!
written by P. D. Eastman
published by Random House Books for Young Readers, 1961
find it here: (affiliate links) Barnes & Noble, Amazon, iBooks, Book Depository, Goodreads
Disclosure: My son adores this book, and I've, therefore, read it about ninety zillion times, so my review might be a *bit* jaded.

Did I enjoy this book: Hey, all! I thought I'd try my hand at one of Sara's famous kid book reviews, so I chose a book I love to hate: Go, Dog. Go!
It's not that the book is stupid, exactly. I mean, I get that it's cool for kids to be able to read books on their own when they're first learning. I'm cool with instilling a sense of independence and accomplishment and all that, but seriously. How am I supposed to convey the magic and wonder of the world of literature to my kids when random colored dogs keep insulting each others' headgear? Is this really the best we can do for our children? A dog party? A tiny bird directing traffic? Ping pong in a tree? And were orange and yellow somehow DIFFERENT in 1961, or am I just supposed to cringe every time my son gets to the part about what color the sun is?
. . . ok, actually. That stuff I just said sort of DOES sound magical and wonderful. Darnit.
I need more coffee.
Would I recommend it: Begrudgingly. 
About the book – from Goodreads: Reading goes to the dogs in this timeless Beginner Book edited by Dr. Seuss. From big dogs and little dogs to red, green, and blue dogs, dogs going up and dogs going fast . . . who knew dogs were so busy? And laughter will ensue at the repeated question "Do you like my hat?" Like P. D. Eastman's classic Are You My Mother? Go, Dog. Go! has been a go-to favorite for over fifty years, leaving audiences of all breeds wagging their tails with delight.
Originally created by Dr. Seuss, Beginner Books encourage children to read all by themselves, with simple words and illustrations that give clues to their meaning.
"The canine cartoons make an elementary text funny and coherent and still one of the best around."–School Library Journal.