We had a smaller group than usual last night. Medical issues and late electricians took their toll on our attendance. Fortunately, an amazing literary accomplishment filled the empty spaces around the table.
The Light Between Oceans is an emotional tsunami. Decidedly, the best book anyone in our book group had read in many years.
We never made it to the list of questions I printed out from the Miles Franklin Literary Award website. The discussion spontaneously ebbed and flowed from topic to topic. We kept repeating words like, "imagery" and "symbolism" while finding it impossible to choose a single character that we couldn't relate to on some level.
The Light Between Oceans reminded me of why I love my book group. And why discussing meaningful novels enriches the experience. So, how are we going to top last night's discussion? Next month we read Orphan Train by Christina Baker Kline. Orphans? Trains? American history? Oh, yeah–endless fodder for opinions is definitely on the menu for next month's meeting.
I can hardly wait.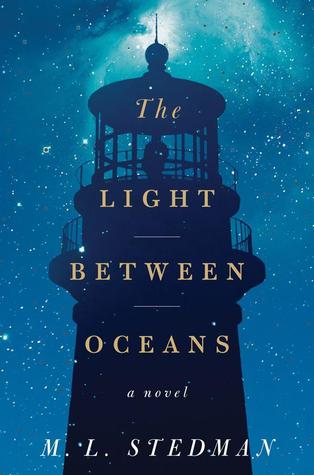 The Light Between Oceans 
written by M. L. Stedman
published by Scribner, 2012
find it here: (affiliate links) Barnes & Noble (Nook) (print), Amazon, iBooks, Book Depository, Goodreads
Read Gina's 5-star review here and Gina's Book Club Recap here. 
About the book – from Goodreads: After four harrowing years on the Western Front, Tom Sherbourne returns to Australia and takes a job as the lighthouse keeper on Janus Rock, nearly half a day's journey from the coast. To this isolated island, where the supply boat comes once a season and shore leaves are granted every other year at best, Tom brings a young, bold, and loving wife, Isabel. Years later, after two miscarriages and one stillbirth, the grieving Isabel hears a baby's cries on the wind. A boat has washed up onshore carrying a dead man and a living baby.
Tom, whose records as a lighthouse keeper are meticulous and whose moral principles have withstood a horrific war, wants to report the man and infant immediately. But Isabel has taken the tiny baby to her breast. Against Tom's judgment, they claim her as their own and name her Lucy. When she is two, Tom and Isabel return to the mainland and are reminded that there are other people in the world. Their choice has devastated one of them.
M. L. Stedman's mesmerizing, beautifully written novel seduces us into accommodating Isabel's decision to keep this "gift from God." And we are swept into a story about extraordinarily compelling characters seeking to find their North Star in a world where there is no right answer, where justice for one person is another's tragic loss.
The Light Between Oceans is exquisite and unforgettable, a deeply moving novel.
If you belong to a book group, please tell us about what you're reading in the comments.
If you would like to join this feature, please feel free to do so by posting your own Book Club Recap and linking it in the comments.