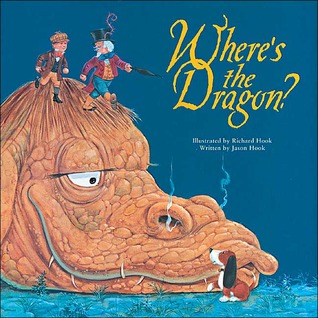 Where's the Dragon?
written by Jason Hook
published by Sterling, 2003
find it here: (affiliate links) Barnes & Noble, Amazon, Book Depository, Goodreads
Did I enjoy this book: This is a really wonderful book! My sons and I enjoyed this fanciful expedition to find dragons with little George and his grandfather! One of the things I love so much about this book is the wonderful illustrations—they literally pop out of the page. Each page has specific details of the art stamped so that they're raised above the rest of the page and give a wonderful tactile addition to the story. Both of my children love running their fingers over the pages to "feel" the pictures!
The other little feature my sons and I really enjoy about this story (well, most of the time at least) is that we get to go on our own dragon hunt as we progress through the story. Each page has several dragons hidden in the trees, waterfalls, grassy hills, or the clouds, and part of the fun of this book is finding EVERY. SINGLE. ONE*. This is especially neat because upon further readings we were able to find dragons that we had completely missed at first glance, so it was like finding a hidden gem in an old favorite!
* Note: it takes significantly longer to find all the dragons when you read this as a bedtime story . . . a very interesting phenomenon . . .
Would I recommend it: You should pick this one up for SURE! We loved the silly tale and kept coming back for more, and you should, too!

About the book – from Goodreads: With its beautifully embossed pages, shiny spot laminations that really pop, and a fun invitation to a dragon hunt, this one-of-a-kind book feels like magic, and looks great under the Christmas tree too.
Look inside this amazing picture book and feel the embossed pages. Can you see and touch the dragon? Can you find lots and lots of dragons? They're everywhere! That's because Mr. Jones is simply mad about the creatures. He carves them out of wood and he tells thrilling stories about them. But he's never seen a real dragon, so he and his grandson George have set sail in search of one. Come along and help, using your sharp sense of sight and sensitive fingers to navigate through the pictures. But remember: to discover a really, truly fire-breathing dragon, you have to hunt high and low and always, always believe hard enough. A story kids will joyously read over and over again.