The Maze Runner
directed by Wes Ball
premiered September 2014
find the movie here: (affiliate links) IMDB, Barnes & Noble, Barnes & Noble (Blu-Ray/DVD link), Amazon (prime movie link), Amazon (Blu-Ray/DVD link)
Did I enjoy this movie adaption: I wasn't a huge fan of The Maze Runner by James Dashner. The second novel in the trilogy, The Scorch Trials, is a stronger story, and I have yet to read the third book. The fact is I really wanted the characters in the book to come alive in the film. Wes Ball is the director of The Maze Runner film, and although I am not familiar with him, I think he did a good job. The movie is entertaining but definitely not perfect.
The film rushes the story line, which in some ways is good but in other ways not so much. I wish they would have taken time to explain the situation a bit better and allow for some more character development. Thomas didn't have enough time to show us why he is one of the main characters, and we definitely didn't see enough of Teresa to even care that she was there. In the books, she and Thomas are special and stand out; while in the film, they are awkward and don't have much of a connection at all.
I also didn't like the way Ball changed some of the personalities of the characters. The book portrays Alby as a guy who is hard to get to know; he's cautious and untrusting at first, but he's the opposite in the film, which was just simply okay. On the flip side, I'm just glad Ball didn't change Gally's personality. Will Poulter's performance stands out in the film. He plays Gally well,  and I actually wanted to punch him in the face a few times (which I think is the perfect compliment for someone playing an unlikeable character).
Would I recommend it: The film wasn't an overall failure for me. I had friends that were disappointed and hated the film. I think if you read the book first you have to keep an open mind. I definitely think I would recommend this movie to people who liked The Hunger Games and Divergent.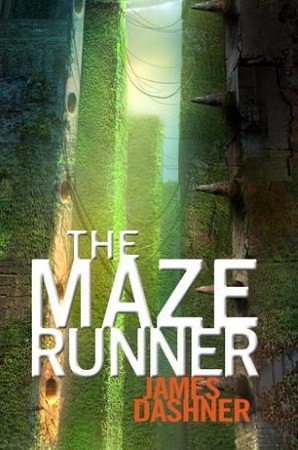 The Maze Runner
written by James Dashner
published by Delacorte Press, 2009
find it here: (affiliate links) Barnes & Noble, Amazon, iBooks, Book Depository, Goodreads
See Gina's 3.5-star review here. 
About the book – from Goodreads: 
If you ain't scared, you ain't human.
When Thomas wakes up in the lift, the only thing he can remember is his name. He's surrounded by strangers—boys whose memories are also gone.
Nice to meet ya, shank. Welcome to the Glade.
Outside the towering stone walls that surround the Glade is a limitless, ever-changing maze. It's the only way out—and no one's ever made it through alive.
Everything is going to change.
Then a girl arrives. The first girl ever. And the message she delivers is terrifying.
Remember. Survive. Run.