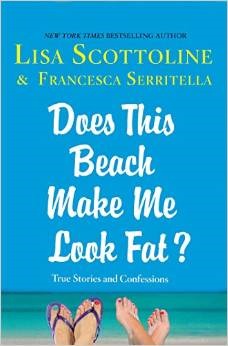 Does This Beach Make Me Look Fat? 
written by Lisa Scottoline and Francesca Serritella
published by St. Martin's Press, 2015
find it here: (affiliate links) Barnes & Noble, Amazon, iBooks, Book Depository, Goodreads
About the book – from Goodreads: The unstoppable, irreverent mother-daughter team presents a new collection of funny stories and true confessions that every woman can relate to. From identity theft to the hazards of bicycling to college reunions and eating on the beach, Lisa and Francesca tackle the quirks, absurdities, and wonders of everyday life with wit and warmth. As Lisa says, "More and more, especially in the summertime when I'm sitting on the beach, I'm learning not to sweat it. To go back to the child that I used to be. To see myself through the loving eyes of my parents. To eat on the beach. And not to worry about whether every little thing makes me look fat. In fact, not to worry at all."
So put aside your worries and join Lisa and Francesca as they navigate their way through the crazy world we live in, laughing along the wa.
About the author: Lisa and her daughter, Francesca Serritella, have teamed up to bring their hilarious and witty perspective on the everyday life as mother and daughter in their weekly essays which you can find in their latest collection, out now, Does This Beach Make Me Look Fat? With stories that will have you laughing out loud one minute and tearing up the next, Lisa and Francesca connect with readers on a deeply emotional level because of the honesty they bring to their stories and by the time you turn the last page you will feel like you just found two new best girlfriends. Earlier collections include Have a Nice Guilt Trip, Meet Me at Emotional Baggage Claim, Why My Third Husband Will Be a Dog, My Nest Isn't Empty, It Just Has More Closet Space, and Best Friends, Occasional Enemies.

Find Ms. Scottoline here: web, Facebook, Twitter, Goodreads
You have until

August 4th at midnight

to win this handmade pillow AND a signed copy of Does This Book Make Me Look Fat?! Enter once a day using the Rafflecopter widget below!