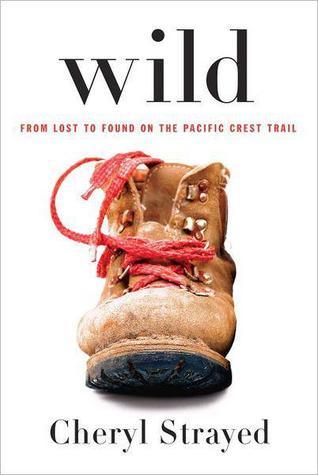 Wild: From Lost to Found on the Pacific Crest Trail
written by Cheryl Strayed
published by Knopf, 2012
find it here: (affiliate links) Barnes & Noble, Amazon, Book Depository, Goodreads
Did I enjoy this book: I'd seen Wild on the shelves at the bookstore and wondered if it would be any good. It called to me, and I finally gave in when I saw it was being made into a film. I have never wanted to backpack; I'm too attached to my Starbucks coffee, indoor plumbing, and wine. I've decided reading about backpacking is the best compromise. Cheryl Strayed is a good writer. She expresses her emotions in a way that is both intimate and accessible. There were times I laughed out loud and times I felt anxious. The woman is amazing for overcoming obstacles both on the trail and mentally. This is a book that I'm so glad I read.
GOLDEN LINES

"The universe, I'd learned, was never, ever kidding. It would take whatever it wanted and it would never give it back."
Would I recommend it: I definitely will, and I think it might actually be a fun book club book.
About the book – from Goodreads: #1 NATIONAL BESTSELLER, SOON TO BE A MAJOR MOTION PICTURE.
At twenty-two, Cheryl Strayed thought she had lost everything. In the wake of her mother's death, her family scattered and her own marriage was soon destroyed. Four years later, with nothing more to lose, she made the most impulsive decision of her life. With no experience or training, driven only by blind will, she would hike more than a thousand miles of the Pacific Crest Trail from the Mojave Desert through California and Oregon to Washington State — and she would do it alone.
Told with suspense and style, sparkling with warmth and humor, Wildpowerfully captures the terrors and pleasures of one young woman forging ahead against all odds on a journey that maddened, strengthened, and ultimately healed her.