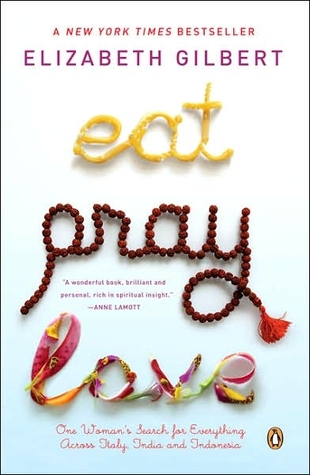 Eat, Pray, Love 
written by Elizabeth Gilbert
published by Riverhead Books, 2006
find it here: (affiliate links) Barnes & Noble,  Amazon, iBooks, Book Depository, Goodreads
Did I enjoy this book: I liked the writing style. I liked the destinations and the people who live in those destinations. The woman writing the memoir is a bit too self-centered for my taste; I did not like her at all. She does have great thoughts throughout her journey, and I get that going through a divorce sucks. The thing is I don't want to hear all about your misery or listen to you whining that you don't think sleeping with your on-and-off-again boyfriend is going to help you.
Also, I kept imagining Julia Roberts (who plays Elizabeth Gilbert in the film adaptation) instead of the woman on the back cover of the book. All I kept saying to myself was, "Julia Roberts wouldn't stand for this–she's Pretty Woman. Put on your big girl panties!"
The destinations are described beautifully though and made me want to go back to Italy to indulge in all the food and wine. Oh, the wine! Elizabeth's trip to India is eye opening for her spiritually. I'm just starting my own yoga practice and can't wait to feel how my mind opens with my heart. However, I don't think going to an ashram will be in the cards for me. The way she describes it is certainly intense, and I have a much better understanding of what it takes to be part of a true yoga practice. Elizabeth's travels to Bali intrigued me most. I would love to travel around those areas and see the beaches and the temples. It seems like a mystical place.
GOLDEN LINES

"Do not apologize for crying. Without this emotion, we are only robots."
Would I recommend it: I think if you can get passed the angst, the travel parts of the book are beautifully done.
About the book – from Goodreads: In her early thirties, Elizabeth Gilbert had everything a modern American woman was supposed to want–husband, country home, successful career–but instead of feeling happy and fulfilled, she felt consumed by panic and confusion. This wise and rapturous book is the story of how she left behind all these outward marks of success, and of what she found in their place. Following a divorce and a crushing depression, Gilbert set out to examine three different aspects of her nature, set against the backdrop of three different cultures: pleasure in Italy, devotion in India, and on the Indonesian island of Bali, a balance between worldly enjoyment and divine transcendence