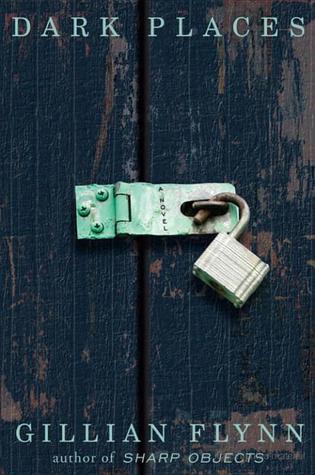 Dark Places
written by Gillian Flynn
published by Shaye Areheart Books, 2009
find it here: (affiliate links) Barnes & Noble (Nook) (print), Amazon, iBooks, Book Depository, Goodreads

Did I enjoy this book: I thought it was entertaining. There are definitely parts where I cringed and had to take a minute to gather my thoughts. There's an extreme amount of darkness in this book. A lot of people call Gillian Flynn an edgy writer, and I would have to say I agree. Dark Places is definitely not something I would have picked on my own; my book club seems to be choosing a lot of books with characters I don't necessarily trust or want to be BFFs with lately.
One of the disappointing things for me about this book was that although there is shock value and entertainment, I did guess some of the ending. Maybe I shouldn't be so good at guessing . . .
Golden Lines

"I was not a loveable child, and I'd grown into a deeply unlovable adult. Draw a picture of my soul, and it'd be a scribble with fangs."
Would I recommend it: I think anyone who likes dark and twisty things will love this book.
About the book – from Goodreads: Libby Day was just seven years old when her evidence put her fifteen-year-old brother behind bars.
Since then, she has been drifting. But when she is contacted by a group who are convinced of Ben's innocence, Libby starts to ask questions she never dared to before. Was the voice she heard her brother's? Ben was a misfit in their small town, but was he capable of murder? Are there secrets to uncover at the family farm or is Libby deluding herself because she wants her brother back?
She begins to realise that everyone in her family had something to hide that day… especially Ben. Now, twenty-four years later, the truth is going to be even harder to find.
Who did massacre the Day family?