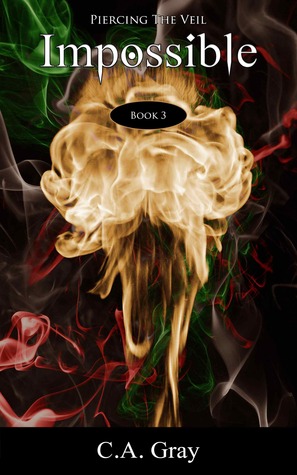 Impossible (Piercing the Veil #3)
written by C.A. Gray
published by Wanderlust, 2014
find it here: (affiliate links) Amazon, Goodreads
Disclosure: I received a complimentary copy of this book in exchange  for an honest review.

Did I enjoy this book: I made it through all three books in the series, and I'm proud of myself. I have the same complaints as I had for Book 1 and Book 2: there's just no believable way to link the entire history of the ancient world to King Arthur, especially when you've been, um, "inspired" by a certain story about a young wizard with a scar on his forehead. Toss in some physics and some seriously disappointing story line resolutions (SPOILER ALERT: they're all the chosen one. Ugh.) and you've got Book 3.
On the flip side, if you really DO enjoy books about dark lords with names you ought not to say, a trio of magical friends who journey to a hidden land, attend school, get in loads of trouble, and ultimately save the world, and a handful of fairy tale creatures, then you'll probably like this series. Oh. Except the bit about reversing the polarity of Camelot. Ain't nobody got time for that.
GOLDEN LINE

"So, Peter, what if these dying-and-reborn-gods that will set mankind free–what if they're all a type of Excalibur?"
Would I recommend it: Nah. Just read the original :::cough cough::: I mean, um, the Harry Potter series.


About the book – from Goodreads: The Shadow Lord has the Philosopher's Stone, and therefore an army of invincible penumbra. He also possesses the fragments of Excalibur, the legendary sword prophesied to be the instrument of either his own destruction, or that of the Child of the Prophecy. The sword, he knows, requires blood to be reforged… and he knows exactly whose blood he wants.
Meanwhile, the Watchers are desperate to steal back the fragments of Excalibur and find out how to reforge them before the Shadow Lord does. Isdemus places Peter and Lily in Carlion's sister cities for safe-keeping until the war begins. But Peter and Lily have an idea that might enable the Watchers to steal back the fragments, in spite of the Shadow Lord's invincible army. Their plan requires them to travel halfway across the world, to an island largely believed to exist only in Greek mythology. Along the way, however, the Shadow Lord uses a pawn to convince Peter and Lily that they are powerless. Without their gifts of the Ancient Tongue, will either one of them stand a chance?
In this gripping conclusion of the Piercing the Veil trilogy, the Watchers and the Shadow Lord both amass their ranks, the battle begins, and the true identity of the Child of the Prophecy is revealed—to the shock of all.