There was so much to talk about when it came to The Girl on the Train. Everyone seemed to have lots to say, and they did enjoy the book. I think it makes things more interesting when a book is good and worthy of discussion. Also, it helps when there is delicious food and wine to go around. I was probably three glasses in by the time we got around to discussing the book, and for some reason, alcohol always makes my thoughts flow better.
The one point that sticks out in my mind is whether or not the character Megan slept with her therapist. There were a few of us, myself included, that thought there were some unethical relations going on between doctor and patient. Then there were other women in the club that said there was no record in the book of it happening. One of the women finally researched online to find that there was no record either way but other book clubs were like ours: they were split down the middle as to whether or not Megan was sleeping with the man who was to be helping her professionally. However, many women agreed with me that the therapist sounded hot and that we wouldn't hold it against Megan for having a romantic notion. So if anyone has read this book and wants to weigh in on the topic please feel free to because I am curious to know what you think.
We also talked about how emotions and scents can help people remember things. Rachel, the alcoholic character, always seemed to get blackout drunk and it caused her pain. I thought that hypnosis would have helped her locate the memories that she desperately wished to remember.
These discussions lead us to a fellow member's dilemma with the 24-year-old babysitter that believed in mermaids. Well, obsessed over is more like it. Now I am very open-minded when it comes to these sorts of things. I read fiction. I think there is definitely a possibility that there are mermaids, fairies, Big Foot, and aliens. Why not? Then we took the discussion further to mediums and ghosts. Honestly, it was a deep conversation that really showed me different sides of my fellow book lovers. We all come from different backgrounds and yet a lot of us feel the same way about certain topics.
And we also all agreed that the murderer in this novel was CRAZY.
This book won't disappoint. We were all entertained, and I think that's what helped us pick May's book, which is Dark Places by Gillian Flynn.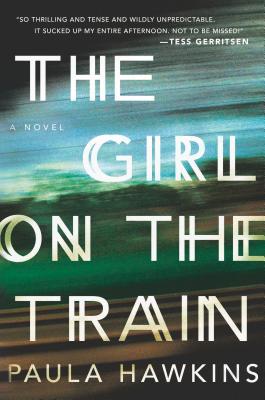 The Girl on the Train
written by Paula Hawkins
published by Riverhead Books, 2015
find it here: (affiliate links) Barnes & Noble, Amazon,iBooks, Book Depository, Goodreads
Check out Gina's review here!
About the book – from Goodreads: A debut psychological thriller that will forever change the way you look at other people's lives.
Rachel takes the same commuter train every morning. Every day she rattles down the track, flashes past a stretch of cozy suburban homes, and stops at the signal that allows her to daily watch the same couple breakfasting on their deck. She's even started to feel like she knows them. "Jess and Jason," she calls them. Their life—as she sees it—is perfect. Not unlike the life she recently lost.
And then she sees something shocking. It's only a minute until the train moves on, but it's enough. Now everything's changed. Unable to keep it to herself, Rachel offers what she knows to the police, and becomes inextricably entwined in what happens next, as well as in the lives of everyone involved. Has she done more harm than good?
A compulsively readable, emotionally immersive, Hitchcockian thriller that draws comparisons to Gone Girl, The Silent Wife, or Before I Go to Sleep, this is an electrifying debut embraced by readers across markets and categories.
If you belong to a book group, please tell us about what you're reading in the comments.
If you would like to join this feature, please feel free to do so by posting your own Book Club Recap and linking it in the comments.