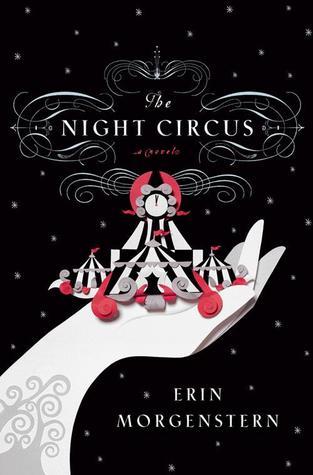 The Night Circus
written by Erin Morgenstern
published by Doubleday, 2011
find it here: (affiliate links) Barnes & Noble, Amazon, iBooks, Book Depository, Goodreads
Did I enjoy this book: There are so many thoughts still running through my head, even hours after finishing this book. The Night Circus will make you feel, and books like that are special.
You'll get to experience the circus not only through the eyes of the characters, but also for yourself. There are parts of the book that are so vivid you'll taste the caramel corn and cinnamon things. The way Erin Morgenstern writes this novel makes YOU a part of the circus. You don't have to be special — you just have to be open-minded and believe in the impossible.
There are so many characters to love. I could list them all here, but I think it's worth meeting them on your own. I will say, however, that Celia and Marcus are now one of my favorite character pairings.
I can't say it enough, but this book is special.
GOLDEN LINES

"The finest of pleasures are always the unexpected ones."

"You may tell a tale that takes up residence in someone's soul, becomes their blood and self and purpose. That tale will move them and drives them and who knows what they might do because of it, because of your words. That is your role, your gift."

"Most maidens are perfectly capable of rescuing themselves in my experience, at least the ones worth something, in any case."
Would I recommend it: Yes, because it's magical.
About the book – from Goodreads: The circus arrives without warning. No announcements precede it. It is simply there, when yesterday it was not. Within the black-and-white striped canvas tents is an utterly unique experience full of breathtaking amazements. It is called "Le Cirque des Reves," and it is only open at night.
But behind the scenes, a fierce competition is underway–a duel between two young magicians, Celia and Marco, who have been trained since childhood expressly for this purpose by their mercurial instructors. Unbeknownst to them, this is a game in which only one can be left standing, and the circus is but the stage for a remarkable battle of imagination and will. Despite themselves, however, Celia and Marco tumble headfirst into love – a deep, magical love that makes the lights flicker and the room grow warm whenever they so much as brush hands.
True love or not, the game must play out, and the fates of everyone involved, from the cast of extraordinary circus per-formers to the patrons, hang in the balance, suspended as precariously as the daring acrobats overhead.