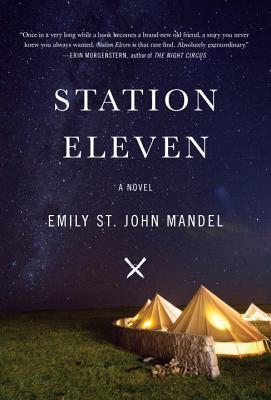 Station Eleven 
written by Emily St. John Mandel
published by Alfred A Knopf, 2014
find it here: (affiliate links) Barnes & Noble, Amazon, iBooks, Book Depository, Goodreads
Did I enjoy this book: I love to plunge right into the worst case scenario, so, in these Ebola-shadowed days, I  got a kind of dark, chilly enjoyment from Emily St. John Mandel's Station Eleven.
In Station Eleven, it's not Ebola that rips through the entire world–it's a virus called the Georgian flu.  It lands in Toronto via a flight from Russia.  Within days, many of the people we meet in the first chapter are dead. The virus tears through the entire world, decimating 99 per cent of the population.
But we meet again the characters St. John Mandel introduces early on in the book; she takes us back and forth, from the Time Before to the Time After. Arthur, Kirsten, Clark, Jeevan, Miranda, Tyler . . . they may never see each other again–they may not even survive the plague– but they're connected.
St. John Mandel makes us think about how things intertwine; she makes us think about how small gestures can have a big impact down the line. A kind word; a book given to a child.  These things last, she suggests, even when civilization has been gutted and those who remain are forced to protect themselves in unforeseen ways.
St. John Mandel presents a cast of flawed humans, and she makes them largely lovable; and, if not lovable, they are certainly believable.  And she gives us the opportunity to ponder what life would be like if the lights flickered out, the jets stopped flying, and what we knows as civilization fell quietly into an abyss and died.
Would I recommend it: I'd recommend this to anyone who enjoys playing with the idea of a post-apocalyptic catastrophe.  What would I be like if I survived the great event?  It's kind of a thrilling question to consider.
The narrative does jump, though–if you like your story line in a straight and linear progression, this book might not appeal to you. And if the whole possibility of an Ebola-riddled world is making you nervous, this account of a modern-day plague might not be the best choice for reading right now . . . It might be better to wait until a time when 'quarantine' is not a real and present topic of conversation.
About the book – from Goodreads: One snowy night a famous Hollywood actor slumps over and dies onstage during a production of King Lear. Hours later, the world as we know it begins to dissolve. Moving back and forth in time-from the actor's early days as a film star to fifteen years in the future, when a theater troupe known as the Traveling Symphony roams the wasteland of what remains-this suspenseful, elegiac, spellbinding novel charts the strange twists of fate that connect five people: the actor, the man who tried to save him, the actor's first wife, his oldest friend, and a young actress with the Traveling Symphony, caught in the crosshairs of a dangerous self-proclaimed prophet. Sometimes terrifying, sometimes tender, Station Eleven tells a story about the relationships that sustain us, the ephemeral nature of fame, and the beauty of the world as we know it.