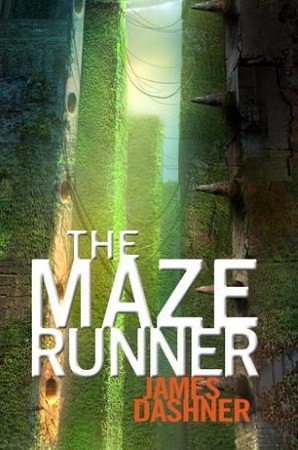 The Maze Runner
written by James Dashner
published by Delacorte Press, 2009
find it here: (affiliate links) Barnes & Noble, Amazon, iBooks, Book Depository, Goodreads
Did I enjoy this book: The reasons I decided to read The Maze Runner were because my best friend told me I'd love it and the movie trailer caught my attention. Sadly, the expectations I had weren't met, but I did enjoy reading it.
James Dashner just dropped me into the story, which sometimes is effective, but it didn't do anything for me. I felt disoriented because I like to know at least one character, preferably the main one, before any action starts. Basically, I had a lot of "huh, what?" moments. It wasn't until a few chapters into the book that I got some clarity, and this helped me continue on with the journey.
The other thing that bothered me was the characters' use of slang throughout the book. Words like "klunk," "shank," and "shuck" were used all the time, which made reading awkward. It made me clunk through sentences (haha, a pun!), and made me say,  "Why not use words that boys would use?"  I mean, not the mother of all swear words, but a few words here and there would have been enough to show us boys will be boys.
I struggled at times to finish this book, but it could have been the fact that my husband was on travel for three weeks, leaving me with my one-year-old twins (who create a cute chaos in my life). It could have been the fact that I was trying to read three books at once. Yeah, that's probably part of it. All the back and forth in the writing left me a bit bruised, too, and it wasn't until the last quarter of the book that I found the hook. It was the fragment of the plot that I needed to get me to read the second and third books; I just wish the author would've done that sooner.
Golden Line: "If you're going to decipher a hidden code from a complex set of different mazes, I'm pretty sure you need a girl's brain running the show."
Would I recommend it: Yeah, I would recommend it to friends who liked The Hunger Games  and Divergent.  I just wouldn't strongly recommend it.
~ Gina ~
About the book – from Goodreads: If you ain't scared, you ain't human.
When Thomas wakes up in the lift, the only thing he can remember is his name. He's surrounded by strangers—boys whose memories are also gone.
Nice to meet ya, shank. Welcome to the Glade.
Outside the towering stone walls that surround the Glade is a limitless, ever-changing maze. It's the only way out—and no one's ever made it through alive.
Everything is going to change.
Then a girl arrives. The first girl ever. And the message she delivers is terrifying.
Remember. Survive. Run.