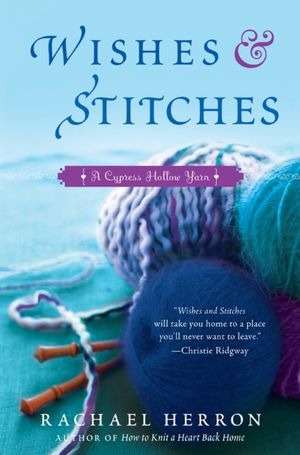 Wishes & Stitches (A Cyprus Hollow Yarn)
written by Rachael Herron          
published by HarperCollins Publishers

find it here: Barnes & Noble, Amazon, Goodreads

Why did I pick this book: This was one of the 10 books that I won from chicklitisnotdead.com back at the beginning of the year! I love those ladies!! 


Did I enjoy this book: This was not a book that I read every free chance I had. I found this book to be rather slow. It was really hard for me to get into. 

I did not feel for the main character, Naomi, at all. I did not find her sympathetic. I didn't get her. She was a knitter – loved to knit – and she moved to a town that was full of knitters. Yet, she didn't share her secret with ANYONE but complained that she wasn't accepted in the town. I also did not buy her shyness and awkwardness. It seemed to contrived. 

With that being said, I did get into the book at the last 50 or so pages. That was when I finally got invested and wanted to see how it ended. The ending was good.

I really liked Bruno, the office assistant, and Frank, Rig's father. Both of these characters were well-written and fun to read. I didn't care all that much for Rig. He seemed cocky and a bit of an ass. 

Would I recommend it: I would not. 

Will I read it again: Nope.

About the book – from Barnes & Noble: It has always been Naomi Fontaine's dream to practice small-town medicine—an ambition that brought her to Cypress Hollow, the charming, tight-knit community her late friend, knitting guru Eliza Carpenter, loved so well. But no matter how hard she tries, Naomi can't seem to fit in here. Then rugged Rig Keller moves in to take over half of Naomi's medical practice, and instantly charms everyone in town . . . including Naomi.

Rig saw what a broken relationship did to his brother, and has no interest whatsoever in getting serious. But the temptation to play doctor with his new partner is just too strong to resist. Any chance they might have of being truly knit together by love, however, depends entirely on what secrets they are willing to reveal . . . and on Rig's willingness to risk his heart and Naomi's desire to open hers completely. 

If you have read it, let me know what you think!!!