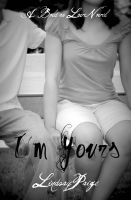 I'm Yours (Bold As Love #2)
written by Lindsay Paige          
published by 


Why did I pick this book: I read the first book in the Bold As Love series, Sweetness, and I had to read this book to see what happened with Emily and Jake. (The author provided me with a copy of this book for review purposes.)



Did I enjoy this book: I did. Again, it was a quick read (shorter than Sweetness) and it kept me reading every free chance I had. In fact, I finished this book in a few hours.


This story picks up about 6 months from where Sweetness left off. (I thought Sweetness ended rather abruptly, so I was glad to see the sequel!) You can see that Emily and Jake are even more in love and that Jake wants to make everything alright for Emily. His love for her shines through all of his actions and attention that he gives to Emily. For example, he stays with her for an entire weekend while she has the flu! What teen guy would do that?


When Conrad comes back into the picture, you can see how Emily struggles with what she should do and where her feelings are. Her struggles are real for a lot of girls and that makes this book feel authentic. There is a lot of sex in this book and consequences from having so much sex. How they handle the consequences is the important part. 


Again, there are some flaws – proofreading and editing. But, as with Sweetness, they can be easily overlooked and your reading enjoyment is not jeopardized. 


Would I recommend it: If you read Sweetness, then be sure to read I'm Yours. However, I would caution that there is quite a bit of sex and some very adult situations. This is not a book for a young YA crowd.


Will I read it again: No, I will not. But I will read other books by this author. I think we have only begun to see what she can do. I can't wait to see how this series ends! 


About the book – MAY CONTAIN SPOILERS (especially if you haven't read Sweetness): Six months after the incident with Claire and the pictures at school, Emily is still dating  Jake, her life seems to be on a happier road.  


Then her ex-boyfriend, Conrad, comes back into her life unexpectedly. He wants to explain what happened two years ago that made him leave Emily. Conrad also wants Emily back and is hoping that she still loves him enough to forgive him. 


Other events happen that could derail Emily and Jake's relationship. Will Emily withdraw into her shell again? Will Emily and Jake stay together?


Happy reading wherever you are and whenever you get a free chance!!!