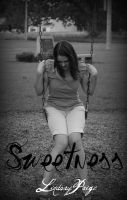 Sweetness (Bold As Love #1)
written by Lindsay Paige         
published by CreateSpace


Why did I pick this book: The author asked me to review her book and I gladly accepted her request. (I was provided with a copy of the book for review purposes.)



Did I enjoy this book: I did. It was a quick read (only 110 pages) that held my interest. I read this book every free chance I had. 


I just wanted to hug both Emily and Jake and tell each of them that it wasn't his/her fault. I cared about these characters and I wanted to see how their story ended. 


Emily was a well written character. She is described as walking with her head down, looking at the shoes going by her. She almost always had her iPod on her and didn't talk to anyone. You could tell she had something going on inside her that was holding her back.  When Emily is paired up with Jake for a class project, he helps her open up…especially once she meets Jake's little brother, Drake. I loved that Emily became her true self when she was with Drake. Those were really sweet moments in the story. Jake is a sweet, caring, very mature young man. Much more mature than most high school boys. Their relationship – although slow to start – is one based on total trust and support.


There were some flaws in this book…mainly proofreading and some editing issues. But they were quite easy to overlook and did not disrupt the flow of the story in the least. This story seemed quite real to me for the most part. 


Would I recommend it: I would probably recommend Sweetness to the older young adult readers. I do think that it is a bit mature for a young, young adult crowd. 


Will I read it again: No, I won't read this book again.


About the book – MAY CONTAIN SPOILERS: Emily has moved to a new town and a new school. She is quiet and not wanting to make new friends. In fact, Emily doesn't think she deserves new friends. When she is paired up with Jake for a class project, she cannot understand why he wants to be friends with her. 


Jake is the star player on the school's hockey team. He is good looking, popular, and a great guy. And now he is just completely taken with Emily. He wants her to realize her worth and to stop being so shy.


Both Jake and Emily have secrets. They both have things in their past that are difficult to talk about and that they want to stay hidden. Can these two maintain a relationship and help each other overcome their pasts?


Happy reading wherever you are and whenever you get a free chance!!!