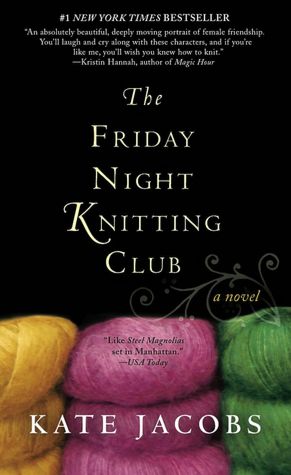 The Friday Night Knitting Club
written by Kate Jacobs          
published by Penguin Group (USA)


Why did I pick this book: This is my book group's pick for March. 


Did I enjoy this book: I did until the end. However, I read this book every free chance I had because I got invested in the story and wanted to see how this story played out.


This was a sweet story of how a single mother followed a dream and a need to provide for her daughter and made a life for herself. Georgia Walker is a strong woman who set a goal and achieved it. Was her life easy? No, but she did what she could and had some help along the way.


I really liked Anita. She was my favorite character in this book. She is the mother Georgia wished she had. She is the older, wiser friend everyone longs for. She is the knitting guru who has patience and understanding for newbies and veterans alike. I loved Anita's story arc and I wanted her to find the love that was right in front of her. 


The confrontations between the characters and the resolutions of some story arcs were good. These resolutions were what made me want to read this book every free chance I had. 


I did not like the mini-sections about the different parts of knitting. I felt like they distracted from the story and broke up the flow of the book. I understand the point the author was trying to make with these sections…they were not necessary.


SPOILER ALERT!!!!! The ending……why oh why oh why? Just when you think everything is going to work out and be happy…WHY????


With that being said, I will probably give the second book in this series, Knit Two, a chance before I write this series off completely.


Would I recommend it: I would but not to those people who do not like sad books.


Will I read it again: Probably not. It was a good read, but not a book that I would want to read more than once. 


About the book – MAY CONTAIN SPOILERS: Georgia Walker is the owner of Walker and Daughter knitting shop. This shop is situated on the second floor of a little deli. The Walker girls – Georgia and her daughter, Dakota – occupy the apartment on the third floor. The knitting shop was started by Georgia when she was a single new mother. This knitting shop, however, had morphed into a great business as well as a great place for women to get together and knit and talk and just be. 


The Friday night knitting club started by accident. Each woman in the knitting club has her share of issues, life problems, and joys. 
Lucie is a television producer who desperately wants a child of her own. However, Lucie is single, in her early 40s, and in a place in her life where her wish may not come true. 

Darwin is a married graduate student working on her dissertation. She comes to the shop to figure out why these women are not being more feministic…why do they persist on the archaic womanly job of knitting?

K.C. is Georgia's former employer who now finds herself without a job and wondering where her future lies.

Peri, the Walker and Daughter shop clerk, is trying to make her mark in the fashion world selling her handmade purses.

Anita is the "grandmother/mother" of the group – a widower that seems to know all the answers and who is there for all of her girls.
And then there is Dakota, Georgia's preteen daughter. She is a chef/baker in the making, a lover of knitting, and wants to know her roots.
James, Dakota's father and Georgia's great love, comes back in the picture. He had never met his daughter after walking out on Georgia before he knew she was pregnant. He comes back and shakes up Georgia's world but Dakota is over the moon that her father is back.
What happens to each of these women? Will they find answers to their life questions? Will they be friends and support each other in each of their times of need? Will they complete their knitting projects?




Happy reading wherever you are and whenever you get a free chance!!!