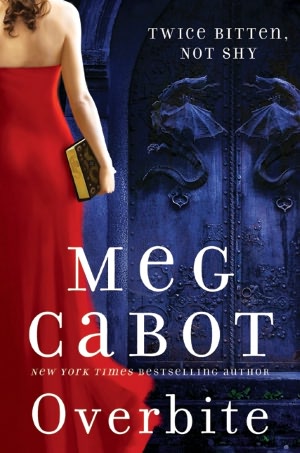 Overbite
written by Meg Cabot          
published by HarperCollins Publishers


Why did I pick this book: I finished the first book in this series, Insatiable, and I wanted to know what happened next. This was also included in the bundle of books from chicklitisnotdead.com. Woo-hoo for the awesome win!!!



Did I enjoy this book: Eh. It certainly wasn't a book that I had to read every free chance I had. I actually found myself having to force myself to read it. Also, I had less than 50 pages to go last night and I went to sleep instead of finishing this book. And, tonight, I had 2 pages – yes, 2 pages – and I put the book aside to fold laundry (it was a hardcover book, not conducive to reading while folding). 


I was lost with Father Henrique. He was referred to as Maurice and Padre Caliente…Why was he called Padre Caliente? Was that ever explained? And that name was thrown in every once in awhile making it rather confusing.


Lucien was there. But not really. He appeared, then was gone. But apparently he had a great role to play in this book. But his struggle – follow his father or his mother – should have been much more developed in my opinion. The author could have done so much more with this. 


Even the title of this book didn't make much sense to me. The first book title, Insatiable, made sense. This, not so much.


I was rather disappointed with this one. And the end??? This story just seemed to wrap up too neatly…too quickly…to easily. 


Would I recommend it: No, I wouldn't.


Will I read it again: I doubt it. Unless, maybe if she comes out with another book in this series that sounds much more promising. But I really doubt it.


About the book – MAY CONTAIN SPOILERS: We join Meena Harper now that she is working for the Palatine Guard employing her gift of seeing how people are going to die to help the other members of the guard perform their duties, namely hunting and killing demons and other creatures of the night.


Meena still lives with her brother, Jon, who desperately wants to be a member of the Palatine Guard. That's all he talks about, thinks about, obsesses about. Jon does create a tool (weapon) with his friend that could be very helpful to the Palatine Guard. Jon is also pining over Yalena trying to make something of himself before he asks her out. 


Meena is still trying to convince the Palatine Guard and Alaric Wulf that her ex-boyfriend (was he really ever her boyfriend? They didn't go out all that much!), Lucien Antonescu – the dark prince, son of Vlad the Impaler (aka Dracula) –  is not evil but actually good. However, Lucien hasn't been around. In fact, he has been in a cave under New York City at the Minnetta Stream trying to gain strength from the Devil's Water as it is also known. 


Lucien does save Meena's life from her ex-boyfriend, David, but then he turns on her later because he only wants her – the love of his life supposedly. 


Meanwhile, Father Henrique – a priest from South America that is being transferred to St. George's in New York City – has come to the Palatine Guard with an agenda of his own. To infiltrate the Guard with his own minions and find Lucien. Little do we know, Father Henrique (aka Padre Caliente – which I still do not know where that name came from!) is actually the vampire that helped Lucien's father side with the devil. UGH! 


So….can everyone guess what has to happen to get rid of Father Henrique and his evil cronies? Who does Meena end up with – Lucien or Alaric? (Not that the story provided much hope for either!)


If you have read it, let me know what you think!!!