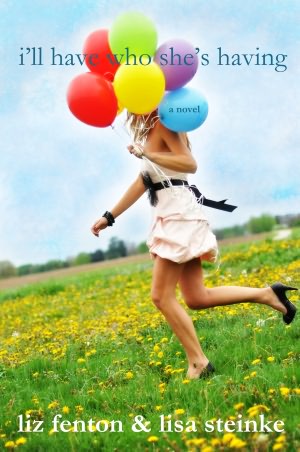 I'll Have Who She's Having
written by Liz Fenton and Lisa Steinke          
published by Liz Fenton and Lisa Steinke


Why did I pick this book: I enjoy these author's website/blog, chicklitisnotdead.com. I saw they had written a book together, so I decided to read it.



Did I enjoy this book: I did. It was a quick read that was entertaining and light. There were a few moments that I laughed out loud and some that made me cringe (the "oh, I've been there" moments). It was a good story.


I enjoyed reading the story from the different perspectives of the main characters and a few secondary and tertiary characters. This helped the story move along and you didn't get too caught up in one person…you saw how everyone can have an impact on other people. 


Would I recommend it: If you are a fan of chick lit, then yes, read this book. 


Will I read it again: I may. We'll have to see.


About the book – MAY CONTAIN SPOILERS: We meet two sisters – Kate and Kelly – one who has the seemingly perfect life and the other who has always been in her older sister's shadow. They each have their own issues and they each need to make decisions to follow the right path for their life. 


Kelly is a stay-at-home mom who's life has become rather boring. She is craving attention and she doesn't appear to get it from her husband. She meets the local volleyball coach and talks her into joining his class. He gives her the attention that she craves. But will she follow the lead of the other "Hot Ta-Mommies" and stray from her loving husband?


Kate sees her sister as having the perfect life…husband, child, home. Kate is a thirty-three year old television producer who is recently single and looking for the man she wants to marry…even if that man isn't right for her. She stalks her ex-boyfriend thinking he is the one. Then she gets hooked on the volleyball coach. Kate fails to see Mr. Right right in front of her. Will she find what she's looking for?


If you have read it, let me know what you think!!!