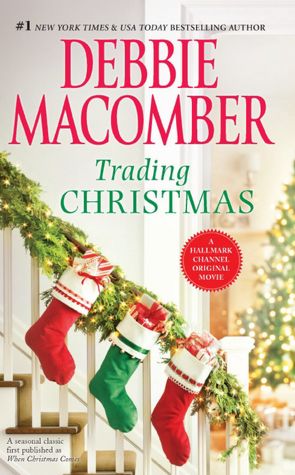 Trading Christmas
written by Debbie Macomber       
published by Mira


Why did I pick this book: I have enjoyed most of Debbie Macomber's Christmas books that I have read in the past. I just saw the Lifetime Original Movie based on this book so I thought I would read it. 



Did I enjoy this book: I did. It was a sweet story that I read every free chance I got. I wanted to know the end, even though I saw the movie. I laughed out loud, my heart fluttered, it was good and made me smile.


Would I recommend it: If you are a fan of this author, or a fan of light chick-lit books, then yes. I would recommend this book as a good Christmas read that will make you smile and warm your heart.


Will I read it again: Probably next Christmas.


About the book – MAY CONTAIN SPOILERS: Emily Springer is a widowed mother of one daughter who is attending Harvard University while Emily is still in her hometown of Leavenworth, Washington. When Heather calls to tell her mom, Emily, that she isn't coming home for Christmas because she has too much studying, Emily decides to be spontaneous. She swaps homes with Charles Brewster – a Harvard University history professor and author – for the Christmas holiday. 


Charles thinks he is going to the prison town of Leavenworth, Kansas, and that he will be able to avoid all things Christmas. Boy was he ever wrong. Leavenworth, Washington is like Christmas central, complete with period costumes, decorations, and cookies.


Faith Kerrigan, a divorcee, is Emily's best friend. After hearing how upset Emily is that her daughter won't be coming home for Christmas, Faith decides to surprise her friend by coming to visit. 


When Faith arrives at Emily's home, she finds Charles…not Emily. While Emily is in Boston, she meets Ray Brewster, Charles's older brother. Meanwhile, Emily's daughter is not in Boston but on her way to Florida on the back of her boyfriend's motorcycle.


Relationships form. First impressions are not as they seem. Happy endings abound. 


If you have read it, let me know what you think!!!