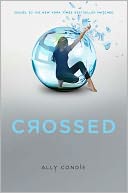 Crossed (Matched Trilogy Series #2)
written by Ally Condie             
published by Penguin Group (USA) Incorporated


Why did I pick this book: I read the first book and it left me wanting to know what happens next!



Did I enjoy this book: I did enjoy this book but not until I got through the first half of it. For me, the first half dragged a bit. Once I hit the second half, I had to read it every free chance I got. I finished the second half in a little more than a day – which is a short amount of time considering the holiday and being a stay-at-home mom. 


The journey was interesting. There were "near misses", or what seemed to be "near misses." There were near death situations and a lot of death itself. There is sadness but happiness as well. There's rebellion and more questions. There's a little bit of everything in this book. And it left me wanting to know the end…of this book and of the trilogy.


The new characters – Indie, Eli, Vic, and Hunter – are great additions to the cast. They help to move the story along and provide motivation for some of the main characters actions. I felt that they were all reflections of the existing characters…a depiction of the different sides of Ky, Cassia, and Xander. 


Would I recommend it: I would because it is part of the series and you will want to know what happens.


Will I read it again: I will because the third book of this series isn't due out until next November. UGH….why must I wait so long???


About the book – MAY CONTAIN SPOILERS (especially if you haven't read the first book): The book begins with Ky's story and each chapter alternates between Ky and Cassia. Ky is in the Outer Provinces "fighting" the enemy. Well, he is actually a decoy for the Society. He spends his days burying the dead after somebody — the Enemy? — fire at them. 


Cassia is at a work camp in the Tana Province that isn't home. She is hoping to get to the Outer Provinces to find Ky. Her journey hasn't taken off yet but it will. 


Xander is still her official Match. He truly loves her and tries to help her on her journey. However, Xander has a secret of his own. A secret that he hopes will change Cassia's heart.


There is still word of the Rebellion. But where are they? Where is the Pilot? Cassia, on her journey to find Ky, learns more of the Rebellion and wants to join. She wants things to change. She wants the Society to be put in their place.


Ky is going through the motions every day just trying to survive. He sticks to himself and only has one ally…not friend but someone to connect with. He finds this in Vic. When he and Vic decide to run for the Carving, Ky decides to take Eli along with them much to Vic's disapproval. 


Ky's trip through the Carving as well as Cassia's trip are interesting and sometimes have you on the edge of your seat. When they finally meet up, the resulting journey is not what was expected. Which direction will each of them go? 




If you have read it, let me know what you think!!!