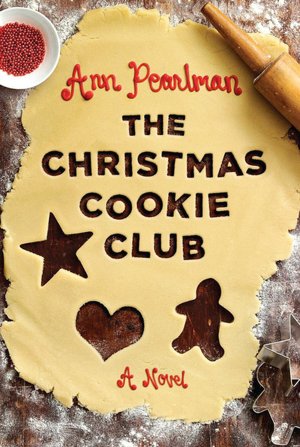 The Christmas Cookie Club
written by Ann Pearlman          
published by Atria Books


Why did I pick this book: I read this book a few years ago and decided to read it again. (Plus I really wanted to read something while I was waiting for My Nook to charge. And yes, I know it doesn't take that long but I really wanted to be reading!)



Did I enjoy this book: Yes. It was good. I love the idea of a "Christmas Cookie Club" and someday I may start one. Who knows?!? If I do, it will be because of this book. 


I enjoy reading about all the different ladies from very different walks of life and going through different life changes, circumstances, etc.


The one part that I skip is the history and research about various ingredients at the end of each chapter. These sections are a few pages long but not needed in the book. They slow down the rhythm and flow. That's why I skip them. I also skip the recipes. Someday, though, I'll have to try a recipe and post about it on my recipe blog. Hmmm….


Would I recommend it: Sure.


Will I read it again: Maybe not next Christmas…but probably the one after.


About the book – MAY CONTAIN SPOILERS: This story begins with Marnie and her preparations for her annual Christmas cookie club. Marnie is the "head cookie bitch" and this is basically her story. Marnie tells the stories of her 11 close friends – the other cookie bitches – throughout the party. The club has rules — every one has to make thirteen dozen cookies and package them in something other than a paper plate with cling wrap. They also bring along food, a bottle of wine, a copy of the recipe, and a story to go along with her cookies.


Marnie is a widow with two grown – and pregnant – daughters and a much younger lover. Her eldest daughter, Sky, is anxiously awaiting news about whether this pregnancy is going to last and whether she will have a healthy baby. (Sky had suffered quite a few miscarriages and a stillbirth prior to this pregnancy.) Tara, Marnie's other daughter, is eighteen, unmarried, and pregnant due within weeks. 


Each of Marnie's friends has a story and they all interconnect at some point. We meet Charlene, who lost her son in a accident; Rosie, who is stuck in the middle of her two friends; Juliet, living a double life; Laurie, a new adoptive mother at her last Christmas cookie club party; Alice, who had to miss the party and send her cookies because of her current circumstances; Jeannie, two friends have deeply hurt her and she is trying to move past it; Allie, a therapist, a good friend, and a someone who also has a much younger lover; Sissy, Marnie's co-grandma to Tara's soon-to-be-born child; Vera, who has a secret past that very few people know about; Tracy, who also sends her cookies because she is on vacation; and Taylor, who announces the new direction of her life at the party.


Everyone has a story. Everyone has a past. Everyone needs a friend. Everyone needs cookies. Don't we all?


If you have read it, let me know what you think!!!