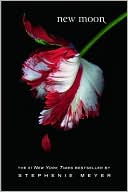 New Moon (Twilight Saga Series #2)
written by Stephenie Meyer             
published by Little, Brown Books for Young Readers


Why did I pick this book: This a series that I read at least once a year. I am reading it now because of the new movie, Breaking Dawn Part 1, that is being released in a few short weeks. 



Did I enjoy this book: Yes. However, it is my least favorite of the series. The break-up aftermath is almost unbearable. The four chapters – well, blank pages – simply titled "October", "November", "December", and "January" are excellent representations of Bella's deep, dark depression. That is until, in chapter 4 "Waking Up," Bella starts hanging out with Jacob Black, her childhood from from the local tribe of Quileutes at the La Push Reservation. Then, she leads Jacob on terribly even though her heart belongs to Edward. However, she does have some fun adventures that are both exhilarating and dangerous and a welcome change, or maybe enhancement, to her personality.


The climax at the end is worth the read through all of the depression. It was exciting and heart-stopping and always has me on the edge….will she get there in time?


Would I recommend it: Yes, especially if you read the first book and will read the remaining books.


Will I read it again: Yes…at least once a year. =)


About the book – MAY CONTAIN SPOILERS: This book picks up shortly after Twilight lets off. Bella and Edward are still a couple, entering their senior year of high school. Bella turns 18 years old and starts to have an age breakdown that most women don't have until they hit 30. Anyway…


After a disastrous birthday party where Bella was almost attacked by Jasper, Edward decides that enough is enough. He believes that Bella would be better off without him. So, Edward does the inexplicable, he leaves Bella. To make matters worse, he makes it as if he never existed. The entire Cullen family moved away as well and ceased all contact with Bella. Thus, the depression begins and Bella is about worthless for a few months. 


Then, life starts to begin again. Bella and Jacob become close while he rebuilds two beat up motorcycles for Bella's new-found fondness for all things reckless. This fondness is only because it recalls Edward's perfect voice back to her mind at every reckless step she takes. That voice helps her keep moving forward even though she is still clinging to the past.


A wave of influenza hits Forks, and seemingly, Jacob gets sick. However, when he doesn't call or come to see Bella, she is immediately worried. Worried that he has gotten in to Sam Uley's gang. Jacob does become a part of Sam's pack…pack of wolves, the legends of the Quileute tribe are true and Jacob is a direct descendant of that legendary first wolf warrior. The problem — the wolves are designed to kill their one true enemy…the vampire. Uh-oh. What a predicament for our heroine!


Then there is the inevitable miscommunication that leads Edward doing the unthinkable…going to the Volturi to end his existence. The thrilling race against the clock part is here.


Of course, as with all great love stories, all is well at the end. Sort of…




If you have read it, let me know what you think!!!