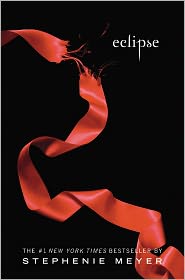 Eclipse (Twilight Saga Series #3)
written by Stephenie Meyer             
published by Little, Brown Books for Young Readers


Why did I pick this book: As with the first two books in this series, I read these books at least once a year. Especially when a new movie is coming out. 



Did I enjoy this book: Yes. But the plot is the least memorable to me. Before you jump on me and ask how I can enjoy it if it is not memorable, please understand that I cannot remember books that well. (Which is great because I truly enjoy reading books over and over again….because I forget them…well, parts of them. I'll remember the big picture, but forget the details. Or I'll remember snippets, but forget the big picture. It's just what I do.)


This book is much more enjoyable than New Moon…not so much depression. Edward and Bella are together. Jake is still a wolf. There's action in the form of a newborn army all wanting Bella's blood. Good stuff.


I really enjoyed learning more about Jasper's back story. It is very interesting and helps explain Jasper. As well as learning the Quileute legends. Those were good and provided a good background for Bella's part later in the story.


My favorite part of this book is the scene in the tent between Jacob and Edward. (Found in Chapter 22 "Fire and Ice." The heart-to-heart — or should I say mind-to-mind — between the two guys is great. It brings them closer together, yet reminds them why they are so-called enemies. 


Would I recommend it: Yes, you have to find out what happens next to these characters.


Will I read it again: Yes. Absolutely. 


About the book – MAY CONTAIN SPOILERS: This book picks up after Bella's trip to Italy to save Edward from having the Volturi kill him. They are back together and happy enjoying their last year of high school. (The first graduation for Bella. Another one of many graduations for Edward.)


Meanwhile, Seatlle is being attacked. There are murders and destruction that is baffling the police. However, the Cullen family knows what it is…newborns. Not newborn humans, newborn vampires that are out of control and blood thirsty. But what are they after? Well, our leading lady of course! What kind of series would this be if our heroine  wasn't in some kind of danger that wasn't of her own making. 


Bella still keeps company with Jacob and his pack of wolves while loving Edward. It is nice to see these likely foes – the wolves and the vampires – come together and cooperate. They learn to fight and coexist. 




If you have read it, let me know what you think!!!