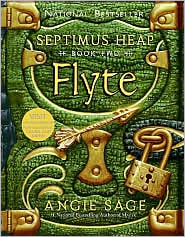 Flyte (Septimus Heap Series #2)
written by Angie Sage             
illustrated by Mark Zug
published by HarperCollins Publishers


Why did I pick this book: I read this book because it is Book 2 in the Septimus Heap Series. When I read a series, I usually read the entire series, unless it is absolutely horrible. So far, this series isn't horrible. 



Did I enjoy this book: Yes. I enjoyed it more than the first book in the series. I was more used to the "misspellings" and the capitalization…it still got a bit annoying but, as I said, I was used to it this time around. 


The story moved faster this time and the characters were just enjoyable if not more so. I really liked the scenes with the Dragon Boat. They were written in such a way that I felt I was there watching the adventure unfold just like Aunt Zelda. 


I was also excited to meet the new characters of Beetle, Wolf Boy, and Milo Banda. They are all welcomed additions to this cast of characters.


One of my favorite parts was when Sarah Heap told the ExtraOrdinary Wizard how it was going to be when she requested a visit from her son, Septimus. That scene just made me giggle…you don't mess with the Mom. We see this same frank attitude from Sarah at the end of the book as well. Sarah is not a prominent character in this or the last book but I enjoy her. 


Would I recommend it: If you liked the first book, Magyk, then, yes, you should read this one. 


Will I read it again: I don't think that I will read this series again for the sake of reading it. This may change when I read the remainder of the series. I will probably read it again when my boys are old enough to read it so that I can discuss it with them as they read it. 


About the book – MAY CONTAIN SPOILERS: Well, it will definitely contain spoilers for the first book if you haven't read it yet…and it may contain spoilers for Flyte….last chance to not read the synopsis!!!


Flyte begins on the night of Septimus's Apprentice Supper on the Marram Marshes and the recovery of the Necromancer, DomDaniel's, skeleton.


The story then picks up one year later and finds Septimus Heap, the seventh son of the seventh son, hard at work learning Magyk, Charms, and Conjurations as the Apprentice to the ExtraOrdinary Wizard, Marcia Overstrand. However, Darke Magyk is still lingering in the castle. In fact, Marcia is being trailed by a Darke Shadow that grows more apparent every day until it is able to be identified in the climatic end to this story. The ExtraOrdinary Wizard is constructing a ShadowSafe to capture her Darke Shadow.


Simon Heap, Silas and Sarah's eldest son, has been missing for a year and reappears at the castle. Simon has changed, and not for the better. He is still harboring a grudge against his youngest brother for becoming the Apprentice to the ExtraOrdinary Wizard. Simon still does not believe that Septimus is his brother. Simon thinks that he is nothing but a Young Army brat who stole what he believed to be his Apprenticeship. (Not that Marcia had ever or would ever have wanted Simon as her Apprentice.)


When Simon returns to his family for a brief visit, it isn't to see his folks, it's to kidnap his adopted sister, Jenna, by order of DomDaniel who we thought was dead at the end of the first book, Magyk. Jenna, the Princess, has been living a good life at the Palace and starts to settle into her role as Princess and future Queen. Simon is a Darke WIzard wannabe and rather childish to the point of one wanting to walk up to him and say, "grow up already and get over it!"


We are also treated to another adventure of the Dragon Boat driven by the Dragon Master, Septimus, along with his brother Nicko and Jenna, the Princess to whom the Dragon Boat owes its loyalty. And we are introduced to the Lost Art of Flyte. 




If you have read it, let me know what you think!!!