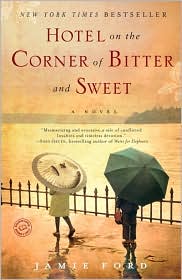 Hotel on the Corner of Bitter and Sweet
written by Jamie Ford             
published by Random House Publishing Group


Why did I pick this book: I read it because it was my book group selection for the month of November. It had been on my "to read someday" list but I never got around to it. So, I was glad that my book group chose this book — another one off that list.



Did I enjoy this book: It was alright. It wasn't a book that I couldn't put down or a book that I had to read every free chance I could get. It took a bit longer than I wanted to finish it. (Of course, moving may have had something to do with that!)


The underlying story was sweet, if not a bit predictable — well, really predictable. But sometimes predictable is okay. Although it jumped between 1942 and 1986, it wasn't hard to follow. The main characters – Henry and Keiko – were likable as were some of the secondary characters, especially Mrs. Beatty – Henry's cafeteria boss – and Sheldon – the street corner jazz saxophonist trying to make it big. 


The ending left me wanting more resolution. I wanted to hear the dialogue that was sure to have occurred at that moment. I won't say anymore so as not to spoil the end for those who haven't read this book. However, for those who have read this book, do you agree with me? Did you want that conversation on the page?


Would I recommend it: Yes, to those who like historical fiction books…books about a story that occurred during a real event in history.


Will I read it again: Probably not. It was a good book – well written for what it was about –  but not one that I could read over and over again. 


About the book – MAY CONTAIN SPOILERS: The story starts in Seattle in 1986 when Henry Lee, a Chinese American, stops in front of the Panama Hotel where a crowd was forming. The new owner of the long boarded up hotel was there and showed off a Japanese parasol that was found in the basement along with a lot of other long-forgotten family items and treasures that were put there for safekeeping during the Japanese internment in America during World War II. "The more Henry thought about the shabby old knickknacks, the forgotten treasures, the more he wondered if his own broken heart might be found in there, hidden among the unclaimed possessions of another time. Boarded up in the basement of a condemned hotel. Lost, but never forgotten." This quote was the first to foreshadow the predictable end. 


Truly, the predictable part occurs in the first three chapters when Henry saw the parasol and talked about his deceased wife of six months, then we flashed back to his meeting Keiko. I mean, really, can we guess where this is going to end?!?


Anyway…the story continues through a series of flashbacks to 1942 and present day, 1986. Both time frames go into father/son relationships. Henry's relationship with his father in the 1940s when he was not permitted to speak Cantonese, only "American", even though this meant he would not be able to speak to his parents. (Neither of them spoke English) And Henry's relationship with his own son, Marty, which is strained and became worse after the death of Ethel. Both relationships are resolved in the story…one good and one not so much.


We meet Keiko Okabe in the third chapter. She is a Japanese American who does not speak Japanese. Yet, she and her family are sent to the internment camps during World War II shortly after the Japanese bombed Pearl Harbor. Throughout the book, we do get glimpses of what life was like for Keiko and her family being Japanese during this time in America as well as the other Japanese Americans living in Seattle at that time. The locals changing their street name from Mikada Street to Dearborn Street was just one of many changes to make themselves more American and less Japanese.


Both Keiko and Henry were bullied by "all-American" kids. But Henry was also bullied by the other Chinese American kids for being a "white devil". Henry and Keiko attended the American school, Rainier Elementary, where they were both on scholarship and worked for the school in the cafeteria and doing janitorial work. The story in 1942 follows Henry and Keiko's budding friendship, romance, and separation because of the internment.




If you have read it, let me know what you think!!!